Six Month Money Back Guarantee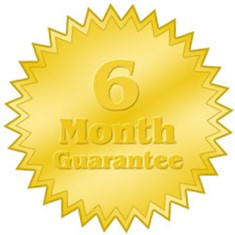 Pass the Exam the First Time—Or Your Money Back!How confident is WiredExperts in the quality of our exam preparation products? So confident, in fact, that we offer an exceptional 6-months Pass-the-First-Time Guarantee on our WiredExperts Cert practice tests.
How Does It work?If you buy a WiredExperts Cert practice test and fail the corresponding exam within 6 months of activation, you can request a full refund, no questions asked!
How WiredExperts Guarantees High Quality Products?WiredExperts Team provides highly classified, authentic preparation materials for all exams to customers because:
WiredExperts Questions & Answers are compiled by Senior IT Professionals and Experts who have years of experience in field.
We review all the latest exams and update products to reflect new trends and patterns. Typically, we cover at least 95% of the questions that you will find on the actual exam.
Unmatchable, Top-ranked Customer Service. WiredExperts Team provides 24/7 after sale assistance. WiredExperts Experts help the customers to solve problems related to the technical questions.
We are so confident of our products and services, WiredExperts is willing to offer a full refund if you fail the exam on the first try. Without a question, we guarantee that our training system is all that you will need in order to pass any certification exam that we offer materials for.
Claiming Your Refund is Easy
In the unlikely event that you fail an exam after using WiredExperts test preparation materials, simply submit your complete score report in PDF format within 2 days of taking the exam. Once you fill out our refund form and send it to Contact US, our refund team will verify your information and then send the refund. Typically, we will arrange a full refund within 7 days of receiving your email and processing the request.
Aside from requesting a refund, you may also opt to request materials for another exam for the sake of replacement. As long as the new exam materials do not cost more than the original ones, we will be happy to exchange products for you.
Give it a try and you will lose nothing! There is ABSOLUTELY NO RISK!* This guarantee applies only to single-user licenses purchased directly from WiredExperts.
Under What Conditions I can Claim the Guarantee?Full Refund is valid for any WiredExperts Testing Engine Purchase where user fails the corresponding exam on first attempt within 30 days from the date of purchase of Exam. Product Exchange is valid for customers who claim guarantee within 180 days from date of purchase. Customer can contact WiredExperts to claim this guarantee and get full refund at Contact US. Exam failures that occur before the purchasing date are not qualified for claiming guarantee. The refund request should be submitted within 2 days after exam failure.
Note: The money-back-guarantee is not applicable on following cases:
One fails the exam within 7 days after the purchase. Although our Question & Answers are complete enough for you to understand all the knowledge points, yet less than 7 days is too short a time to learn it well.
Wrong purchase. wiredexperts.com will not entertain any claims once the incorrect product is Downloaded and Installed.
Free exam. (No matter failed or wrong choice)
Expired order(s). (Out of one year from the purchase date)
Retired exam. (For customers who use our current product to attend the exam which is already retired.)
Different names. (Candidate's name is different from payer's name.)
Products on sale. (If you purchased the Products that are sold at a reduced price; or are given for free)
Guarantee Policy is not applicable to CISSP, EMC, F5, HP, IBM, PMI, Oracle, SSCP, SAP and GIAC exams as these Vendors change these exams frequently. Even we offer real exam questions for these exams but we cannot guarantee these dumps are valid for every day. (wiredexperts.com would like to offer other 2 free exams if who failed these exams. )
Guarantee Policy is not applicable to RHCSA, RHCE, CCIE Lab and OCM Lab exams as these are hand-on lab exams. (We offer actual lab questions but you need to understand and master it.)
For the above cases and the ones do not appear but involved with the guarantee policy, wiredexperts.com reserves All Rights of the final explanation.